Hi, We are UNIKO's hardware!
This time we received the MSI's Radeon RX5500XT (8GB) Gaming X and Geforce 1650 Super Gaming X for review purposes. We should mention that the 4GB version of the 5500XT is closer to the GTX1650Super price-wise. Nonetheless, we are going to evaluate these two cards with our suite of gaming benchmarks set at 1080P, max setting to see how they fare against each other.

MSI Radeon RX 5500XT Gaming X 8GB packaging and detailed look
▲Front / Back of the box. We can see more details about their TWIN FROZR 7 cooling tech.
▲We get some pamphlets inside, including a short manga with Lucky teaching you how to install your graphics card. You will have to download the drivers on MSI's website.
▲MSI uses their newest 90mm dual TORX 3.0 fans on this cooler. The added fins on the fan blades provide more downdraft airflow to the cooler's fin stack than their previous iteration. They have also implemented their ZERO FROZR smart fan stop technology, which the fans will only spin up when the GPU hits 60C.
▲Here's a look at the backplate which adds some further support to PCB. MSI has also adorned the backplate with some stylish brushed aluminum accent.
▲For display connectivity, we have 3 DisplayPort (v1.4) and 1 HDMI 2.0b.
▲The card uses an 8 pin power connector to get its juice. The MSI Dragon logo side plate has RGB light implementation, which you can control using MSI's Mystic Light software.
▲Here we can have a closer look at its heatsink. It's a four heat pipe design with a nickel-plated copper baseplate cooling the GPU. The VRAM and VRMs all make contact with the heatsink via thermal pads.
▲MSI uses these metal plates to reinforce the graphics card's PCB. The backplate also helps with the VRAM and VRMs heat dissipation, since on the back of the PCB, there are thermal pads in the said location that make contact with it.
▲Here we get a look at the naked PCB. The graphics card is equipped with a 6 phase VRM paired with LFPAK MOSFETs. They are controlled by an International Rectifier IR35217 PWM controller. The 8GB of GDDR6 runs 14 Gbps.
▲The PCB itself is quite small.
▲A quick check via GPU-Z reveals to us that this GPU is indeed using TSMC's latest 7nm manufacturing process.
▲Here's an RX5000 series spec comparison chart to visualize the difference between the GPUs.
MSI GTX1650 Super Gaming X packaging & detailed look
▲Front/ Back of the packaging.
▲MSI also use their latest TWIN FROZR 7 cooling tech on this card as well. It is equipped with dual 85mm TORX FAN 3.0. It boasts the same ZERO FROZR smart fan stop tech, which the fans will not spin up until the card hits 60 degrees Celsius.
▲This card does not feature a backplate.
▲For display output, we get 3 DisplayPort (x1.4) and 1 HDMI 2.0b.
▲The MSI Dragon logo side plate here also features RGB light implementation, which you can control using MSI's Mystic Light software. The graphics card uses a 6 pin power connector which can draw up to 150W of power.
▲For this heatsink, MSI has used a 3 heat pipes design all connected to a nickel-plated copper base which only cools the GPU.
▲The memory chips and VRMs are cooled by these metal plates which are sandwiched between the PCB and the heatsink. The components make contact with the metal plates via thermal pads.
▲This card uses a 3 phase VRMs design which is controlled by a uPI uP9529P PWM controller. The 4GB of GDDR6 runs at 14 Gbps.
▲Since there is no backplate on this card, MSI chose to keep the clean aesthetic of their black PCB with only their dragon logo present on it.
▲
A quick check through GPU-Z indicates that this GPU was manufactured with TSMC's 12 nm process.
▲
Here's the GTX16 series spec chart for comparison.
Test platform spec & benchmark results
Windows 10 Pro 1909
AMD Radeon Driver 19.12.3
Nvidia Geforce Driver 441.66
Synthetic gaming benchmark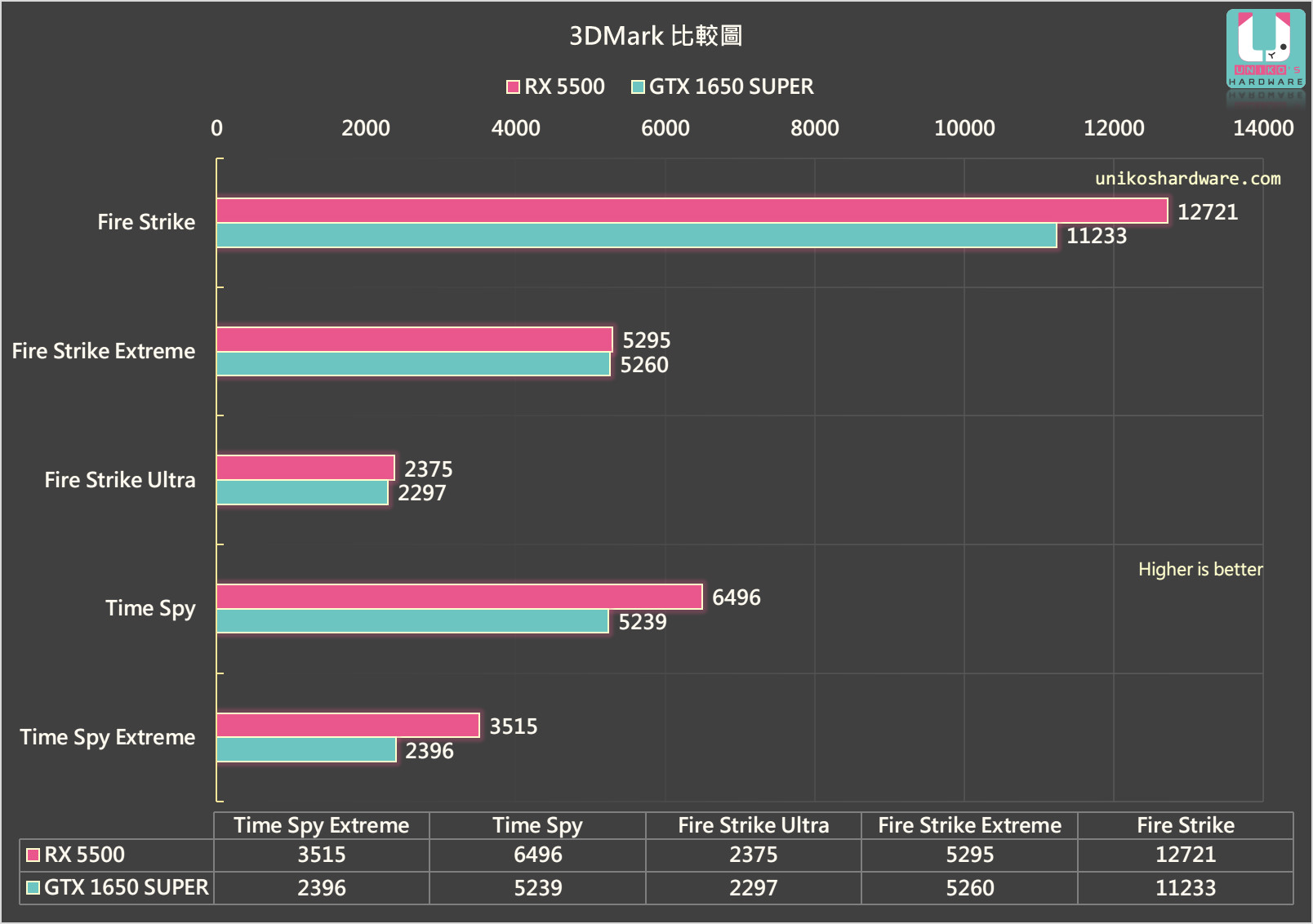 ▲The RX5500XT takes the cake here when it comes to 3DMARK @4K and DX12.
▲We have picked these 5 random games to do our benchmark runs. Here's the average FPS of each card. We can see the 5500XT average FPS is higher than the GTX 1650 Super in most of these games – the exception being Strange Brigade running on Vulkan.
▲In our gaming minimum FPS testing, we can see the RX5500XT is better at holding itself up than the 1650 Super.
▲In our Furmark burn testing (our testing room ambient temperature is 26C), the GTX1650 Super is more power efficient due to its TDP of 100W. The RX5500XT has a TDP of 130W.
Conclusion
First, we do recommend these 2 cards to gamers who play mostly MOBAs and/or at 1080P. The price of both cards hangs around 160USD ~ 200USD.
The RX5500XT has 2 versions, a 4GB version and 8GB one. In our testing, we have only seen the 8GB VRAM buffer being truly taken advantage of at 4K or in some very specific games.
With 1080P in mind, we highly suggest the 4GB version of the RX5500XT for regular buyers. However, if you manage to get a good deal on the 8GB version, don't skip on it.
The RX5500XT and GTX1650 Super both have their advantages and disadvantages. We suggest gamers to buy the one that fits their needs.
The two cards might also have some price change soon. So, holding out on them right now might also be a safer choice.
English ver. editor XMA